Authentic and fulfilling experiences.
Simply put, we want to provide you with the best travel experience that you can possibly have while in Japan. Our services are for travelers to Japan who are looking for trips that will allow them to delve beyond the surface-level, typical experiences. Our trips are also for those who are looking for a balanced itinerary that gives them the opportunity to see the hotspots that they've heard so much about, but at the same time will introduce them beautiful places that they didn't even know existed. Our goal is to craft memorable experiences that can be cherished for years to come. 
In addition to the best group tours available for Japan, we also pride ourselves on delivering customized and specialized tours to meet the unique and individual needs and requirements of our clients. Our name is Kichi Japan for a reason. We offer group tours and trip planning exclusively for people visiting Japan. Most tour operators are spread thin, by trying to offer tours for every country on Earth, and consequently becoming a jack-of-all-trades. We, however, are entirely and exclusively focused on delivering people the best and most authentic experience that they can have while here in Japan.
The festivals, the food, the rare and hidden locations, we are dedicated to knowing and sharing the most memorable and authentic moments that you can have while traveling here. Japan is such a multi-faceted place to visit. You can see enormous skyscrapers that are built right next door to temples that are hundreds of years old. This beautifully balanced juxtaposition is something that we aim to deliver in each itinerary that we design.
Are you looking for a customized trip? Do you need help planning your next private trip? Are you a school looking to arrange a trip to Japan for your students? A business looking to plan a trip for your staff? Maybe you have a very specific place or activity that you want planned? If you fall into any of these categories, then we can design a custom trip just for you. 
We work with families, individuals, schools, businesses, and other organizations to come up with trips to suit your needs while visiting Japan. We also have experience planning for people with variety of budget levels. From those who prefer luxurious accommodations throughout their trip to those who would prefer a more modest approach, and all levels in between. Below you will find a list of some of the types of tours we can assist with, to give you an idea of what we have done for our past clients:
Honeymoons
Educational/School trips
Business trips (and itinerary planning for leisure time on these trips)
Family trips
Event trips (sporting competitions, music concerts, etc.)
Hobby-specific trips (anime, music, martial arts, etc.)
Seasonal and holiday trips
Nature trips (including hiking or walking-centric trips)
Food trips
Art trips
and more…
Please have a look at our 'Sample Itineraries' page for more details.
We are based in Japan, and we also provide full support for our clients as they are traveling throughout the country (for everything from last-minute dinner reservations, to arranging private transport, or even just assisting with minor translation or interpreting services), thus to maintain a high standard of service for our private tour clients, we can only work with a limited number clients at once. Please check the notification at the top of this page or on the 'Trip Request' page to see what our current availability for accepting new requests is.
Here is a basic overview of our planning process:
Choose a service that best suits your needs on the Trip Request page.
Schedule a time to speak with us to give us details about your trip, including any locations you wish to see, and activities you hope to experience (if you have any specific ones).
We will begin working on your initial trip plan (should take up to a week).

We will go over the plan with you, and then make any revisions that you wish to make.

We will put together a fully fleshed-out and detailed itinerary complete with day-to-day scheduling and times for transportation, activities, hotels, guides, restaurants, etc. *Full-Service / Customized itinerary options only (reservations not included for Customized itinerary clients)
We greet you when you arrive in Japan, and provide you with our full concierge service while you are traveling (Full-Service clients only).
Because we are a small and passionate group, and quality planning takes a bit of time, your patience during the planning phase of your trip is very much appreciated. We aim to have the initial planning done within a week, however if you are in need of your trip plan on a quicker schedule, please let us know and we will do our best to expedite things for you. We accept most requests, no matter the urgency, however a period of 3+ months, or more prior to arrival is ideal for activity, hotel and transportation availability when planning.
We ask that our clients please review the following requirements before submitting their trip request so that we can make the absolute best of your time. If we cannot accept your request, please try again at a later date, as we can only work with a few guests at a time in order to maintain a quality experience for our guests who are currently traveling with us.
Below are some of the requirements that we have before beginning work on your trip:
A planning fee. The fee is deducted from the final, total cost of your trip (when you book with us), but is required for us to begin planning. The amount is usually $300 USD, however it can vary based on the length of your trip and the time required to plan it thoroughly. Please note that this requirement does not apply to any of our returning clients, and that the planning fee is only applicable to those who are choosing the Full-Service plan.
Confirmed flight details. This is only if your desired departure date is less than 3 months from the time that you are contacting us (not a hard requirement).
Below, you will find a more detailed explanation of the three planning services that we have. After you have reviewed them, please choose one on our 'Trip Request' page and fill out the associated form to give us an idea of what kind of trip you'd like when visiting Japan. After that, you will be able to schedule a time to speak with us and give us the finer details, and desires for your trip. 
A breakdown of our services
Three simple options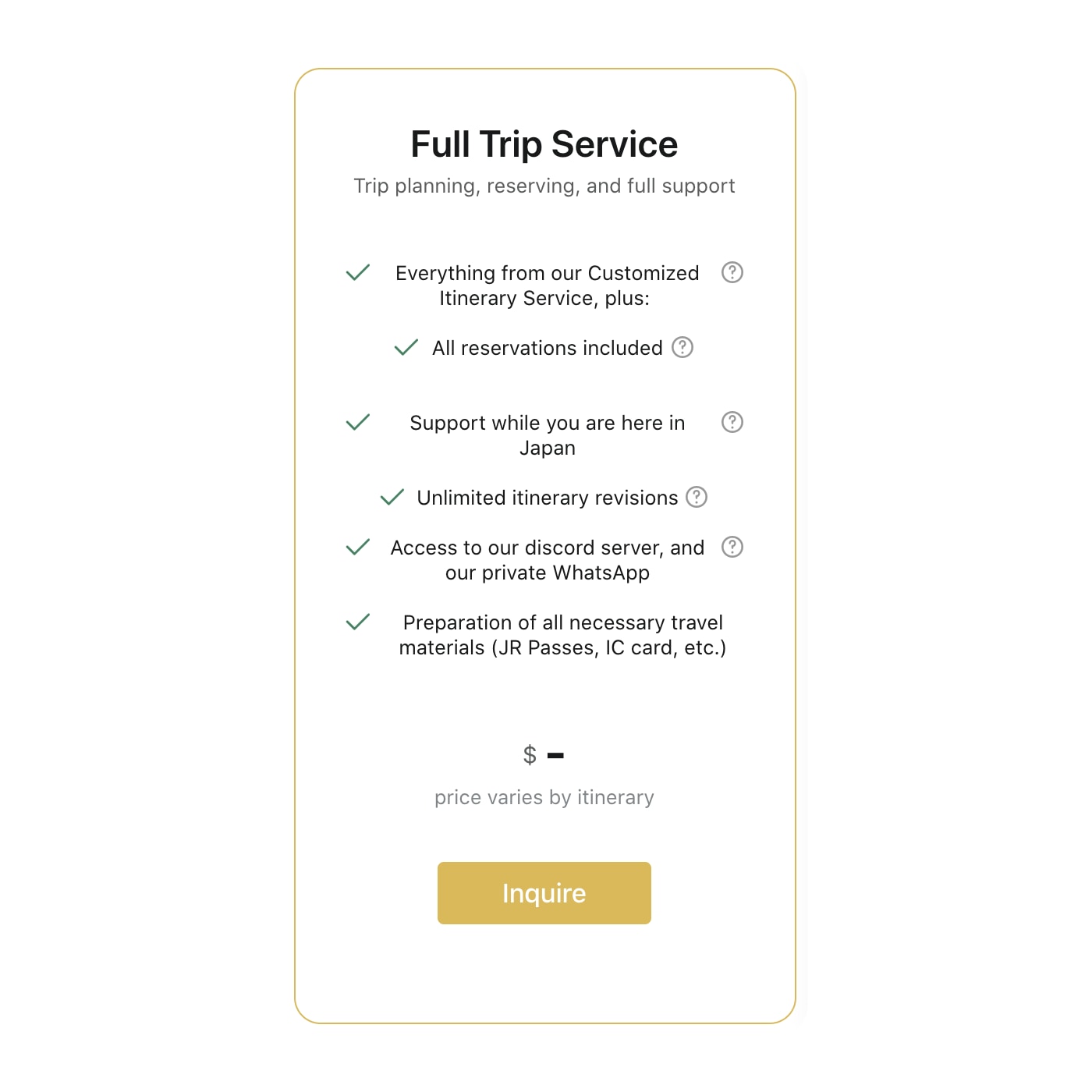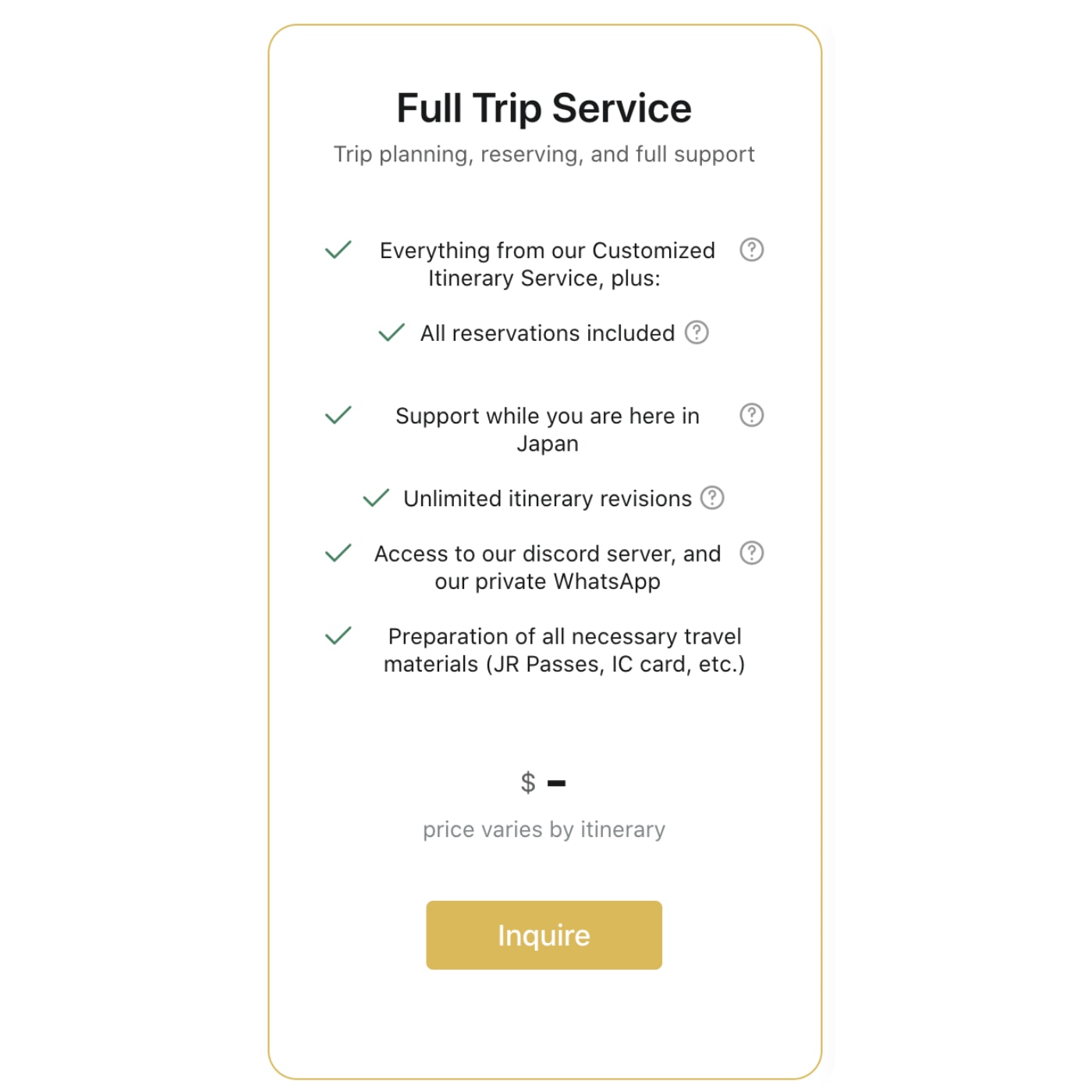 Full-Service Option
Best option for worry-free travel
For this option, we handle pretty much everything for our clients. We plan the trip, we make the reservations, we greet you when you arrive, and we handle anything that comes up while you are traveling throughout Japan (missed reservations, last-minute changes, etc.). This is the best option for someone who wants a complete and professionally handled trip from A to Z.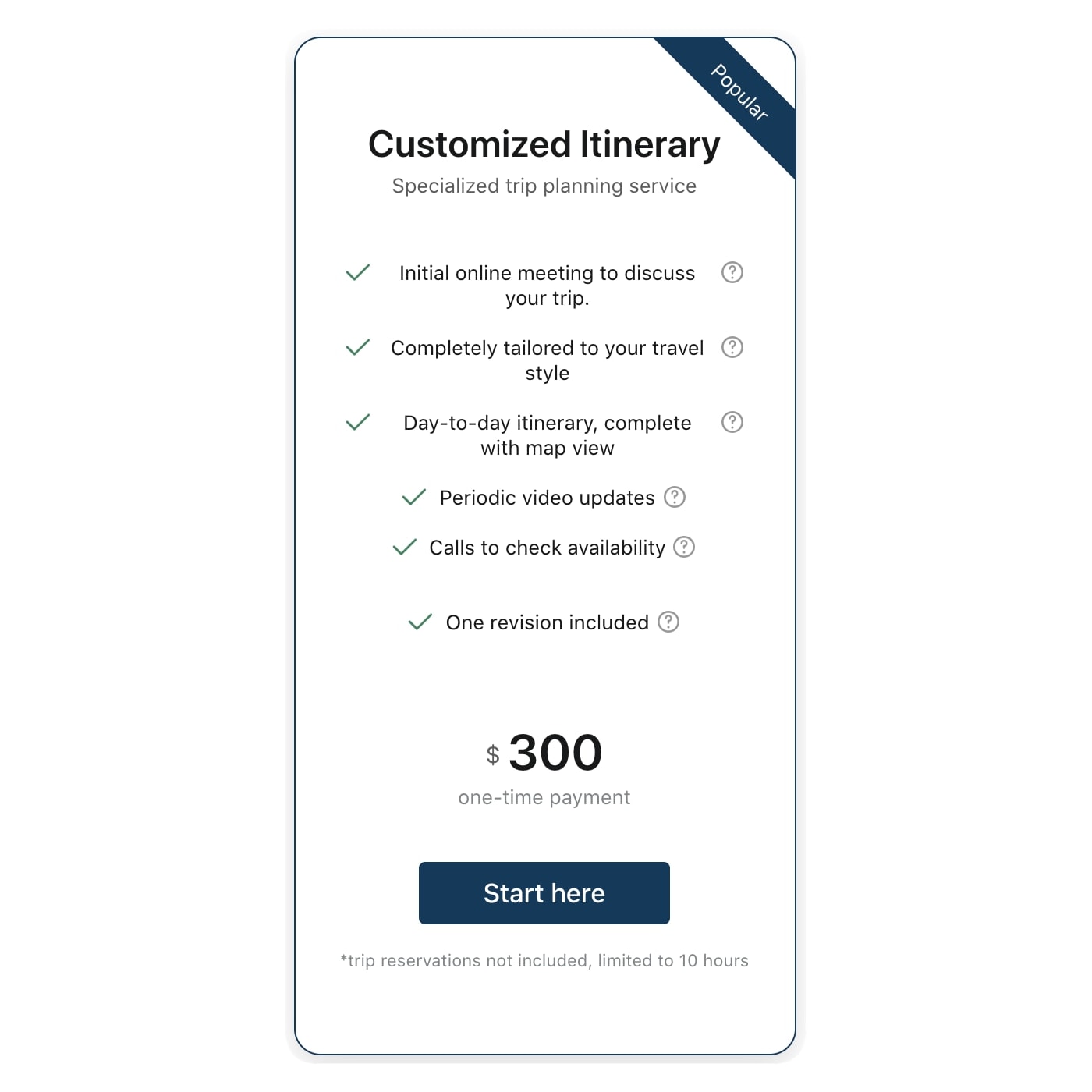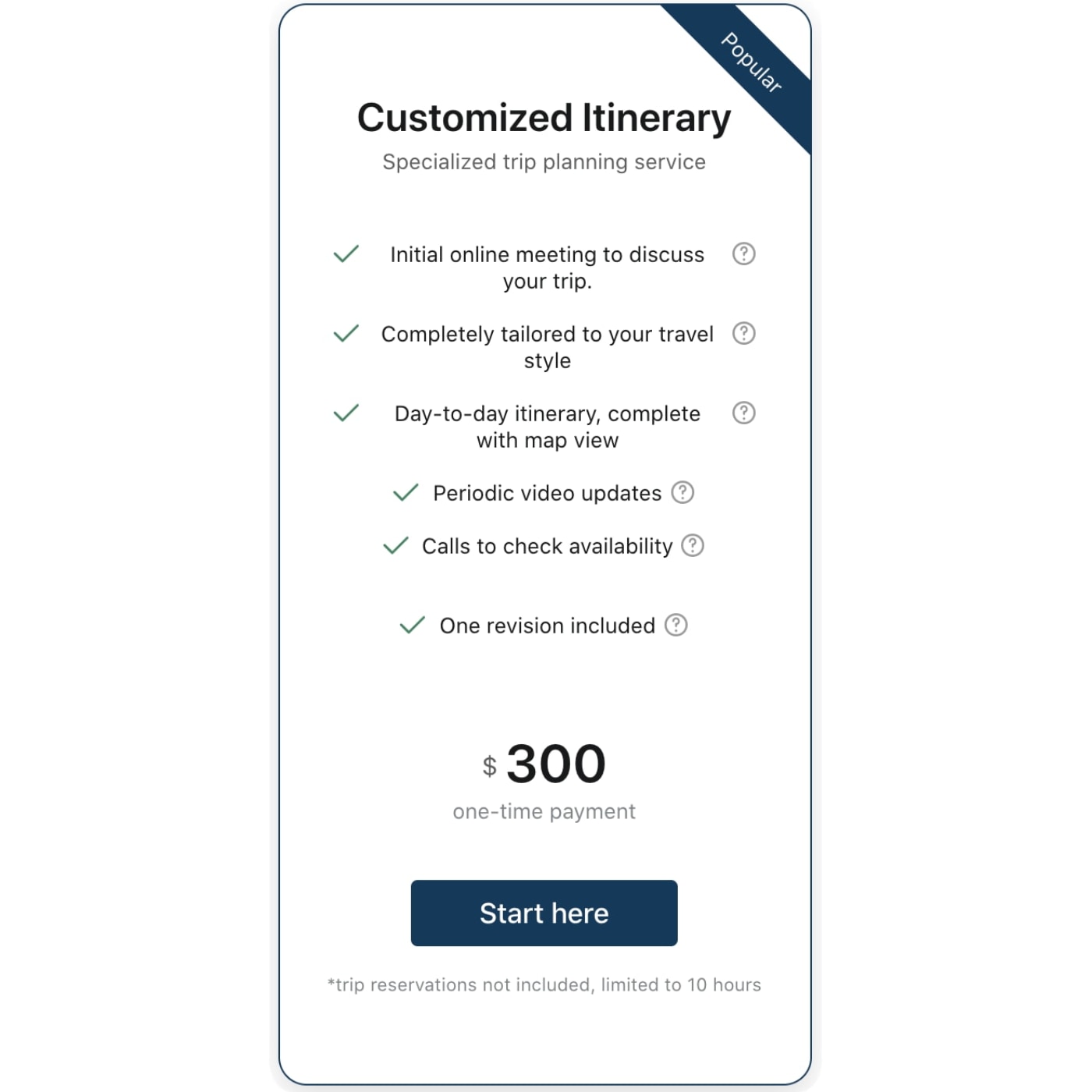 Customized Itinerary Option
Best option for someone who only wants a professionally planned itinerary
This option is the best option if you want us to use our passion and knowledge of Japan to craft a personalized itinerary for you! We start off by scheduling a time to speak with you and get a better understanding of how you like to travel, and also any must-see locations within Japan that you want us to include in the itinerary. We then will put together an itinerary based on our conversations with you and also something that fits in with how long you want to visit Japan, and the overall budget that you've specified for your trip (this will include hotel suggestions, train routes, daily activity plans, guides, restaurants, etc.). We will then present that to you and receive your feedback before polishing the itinerary further. For those who are still deciding between this option and the full-service option, please note that if you change your mind and would like us to handle your trip, you can switch to the full-service option later, without having to pay the initial fee for that option.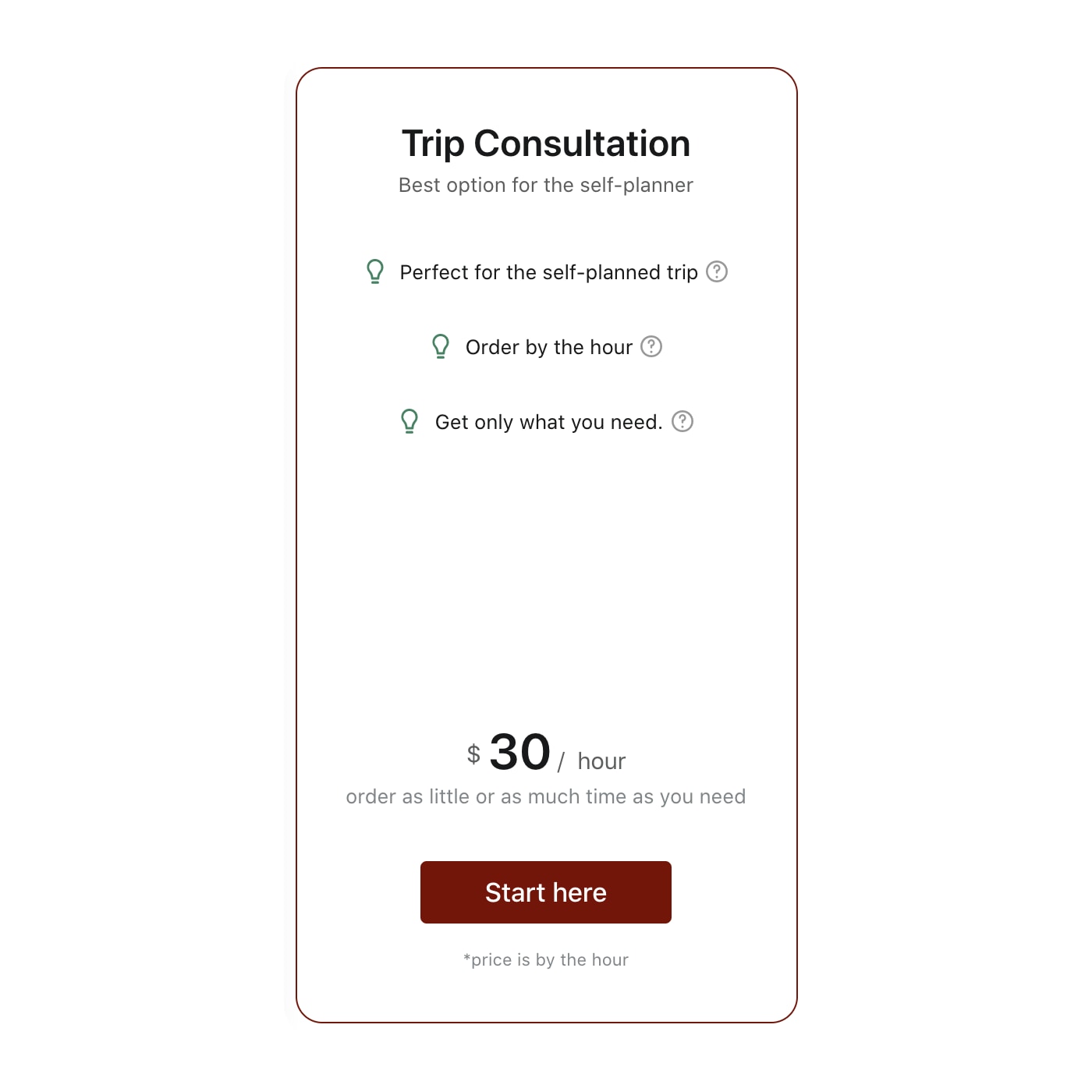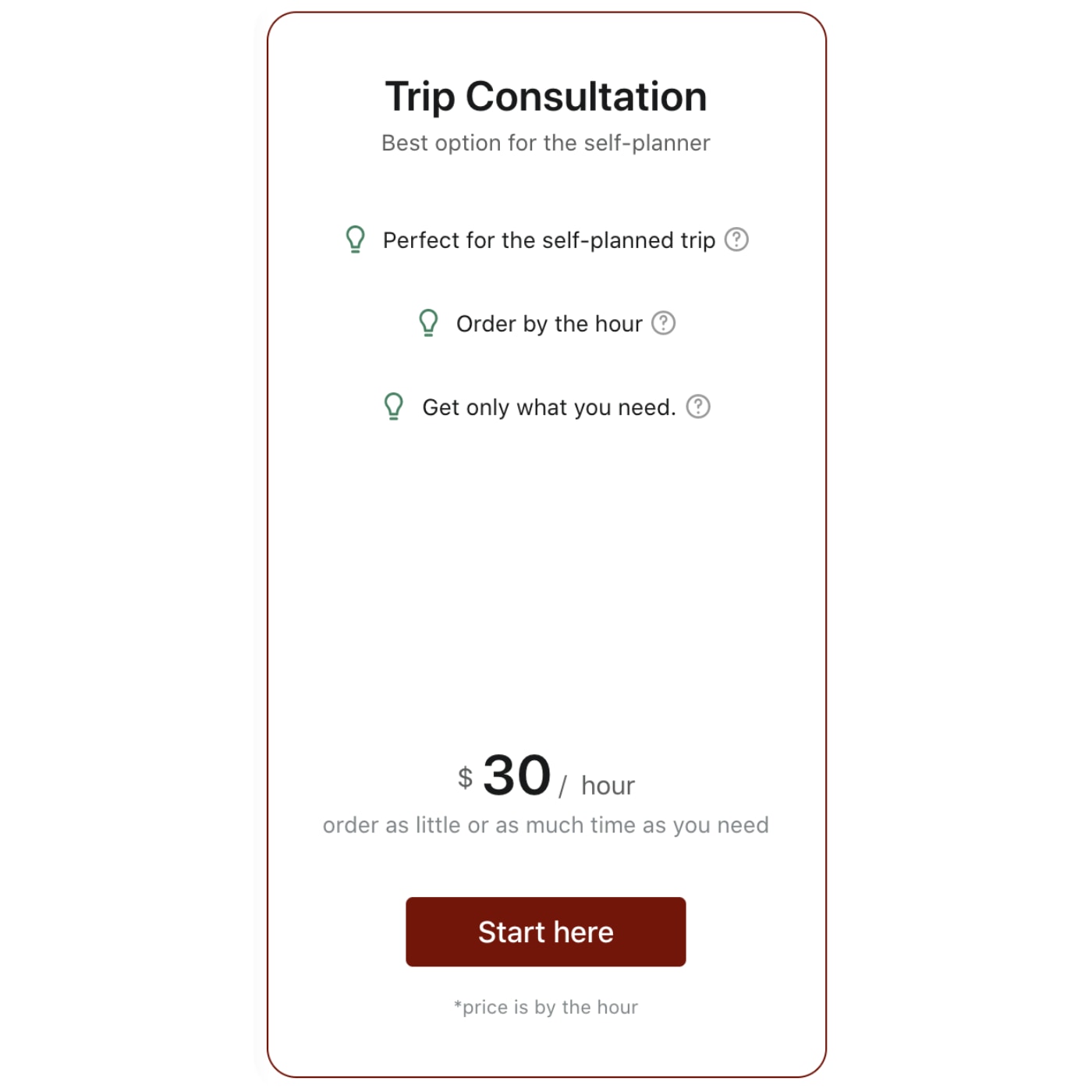 Trip Consultation Option
Best option for the self-planner
This option is for those who have already planned all or most of their trip and are now looking for help with checking availability, making reservations, confirming the feasibility of their itinerary, or anything else at all. With this option, you can order as much or as little of our time and do so on a need-basis. You can even schedule a 1-hour call with us and we can sit with you (virtually) and go over your whole trip plan. Also a good option for someone who knows that they want to plan their own trip, and would like to go over ideas before they start.
Find inspiration here
Take a look at our sample itineraries to get some ideas
Let us design your dream vacation.